Braces & Invisalign for Dental Patients in the West Midlands
Misaligned teeth are a common cosmetic issue, but its impact can be devastating. Many teens and adults have problems with misaligned teeth and braces can help to straighten out teeth and give you the smile you want. It's likely that, if you have crooked, misaligned teeth, you try and hide the issue as much as possible.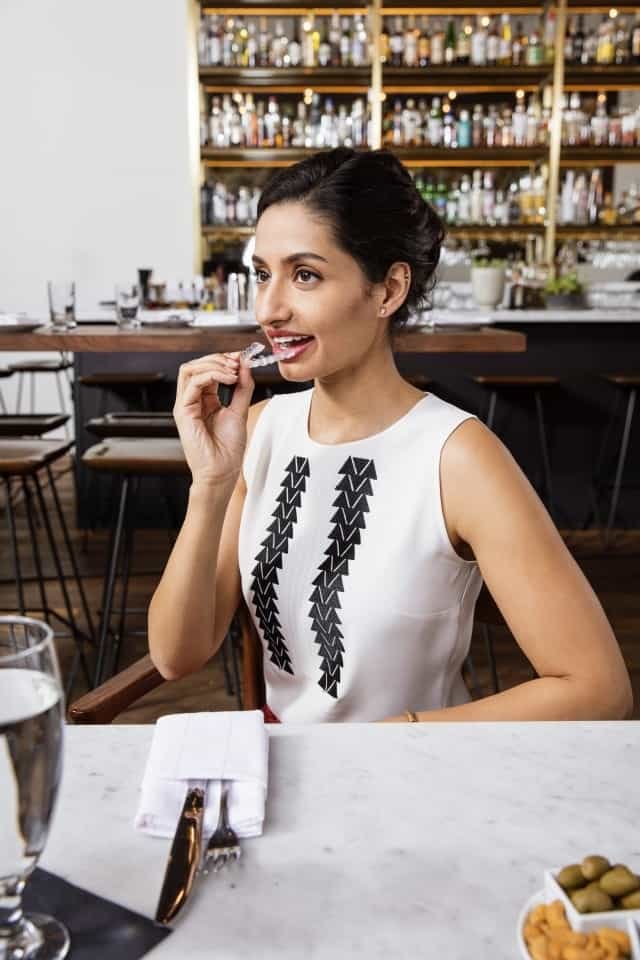 Unfortunately, this can result in you being far less relaxed and confident — you may feel self-conscious about smiling naturally. The Dentist Walsall helps patients in the West Midlands by providing braces and other orthodontic treatments.
Braces can be ideal for teenagers, who are at the right age for teeth to straighten more quickly and easily. However, many adults also opt for braces and we're increasingly seeing more adult patients interested in this type of treatment.

Many individuals are worried about how braces will look on their teeth — they're often a lot more noticeable, especially from a distance. Many patients understand this is part of the process and that, ultimately, they'll have a straighter smile when the braces come off.
However, there are now a wide variety of different teeth straightening technologies on the market. These include Invisalign braces, which are custom-made and virtually invisible, along with other forms of discreet braces. Our Midlands-based dentists will be able to discuss your options with you at your first appointment.
How Braces Work
Modern orthodontics techniques utilise a wide range of different braces and they all work slightly differently. The principal aim of braces, though, is to straighten the teeth and correct dental alignment. Orthodontists recommend brace treatments for a variety of reasons, including:
If your teeth are crowded, crooked or protruding and can be straightened
When you have gaps between teeth that can be closed by using braces
If you suffer a malocclusion, such as an underbite or an overbite. This means your upper and lower teeth don't meet properly, which affects your bite
When these types of problems exist, they can lead to a range of problems if untreated, aside from just cosmetic issues. This includes problems with eating or brushing teeth, an increased risk of damage to other teeth or headaches caused by jaw strain.
Who Can Be Treated with Braces?
There are no pre-existing dental or medical conditions which would automatically rule Invisalign out for anyone. So long as you've completed an assessment with us and we judge that Invisalign could work for you, you can start wearing your new invisible braces.

So… Invisalign or braces?
Braces work more quickly when the teeth and jaw are still in the process of growing, which is why teenagers are so well-suited to teeth straightening treatments. However, braces can be effective treatments for people of any age.
If you do opt for braces, you will need to have relatively good teeth and maintain high levels of oral hygiene throughout the treatment. This means that patients with teeth damaged by decay may not be suitable for treatments of this nature. If your orthodontist doesn't think your teeth are suitable for braces, they will be able to recommend an alternative treatment to help you achieve the smile you want, such as veneers or dental implants.
Types of Braces
The "train track" appearance of braces has long put off many adults and teens from opting for braces, so much so that individuals would rather live with crooked teeth. Garish braces visible from a distance can be off-putting for adults who need to maintain a professional image at work or for those attending events or celebrations in the near future.
Fortunately, modern brace technology has transformed in recent years. Patients can now opt for clear or ceramic braces that straighten the teeth discreetly. Clear braces or aligners, such as Invisalign, are fabricated from a transparent material and are not easily spotted by onlookers, while ceramic braces are made to match the exact shade of your teeth, making them near invisible. Each of these solutions ensures that less attention is drawn to your mouth while your teeth are in the process of being realigned.
Are you considering getting braces to straighten your misaligned teeth? Our team of orthodontists in the West Midlands can talk you through the best brace treatment to suit your needs and give you all the essential support you require throughout the teeth straightening process. Call The Dentist Walsall on 01922 624900 to find out more about getting braces in the West Midlands and the surrounding areas.